Walnut Tree Close extended road closure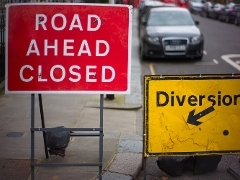 Work on the new Walnut Tree Close crossing has been extended to Friday 8 April.
The work on the pedestrian crossing includes installation of a new road drainage system as well as the raised pedestrian crossing. The system was designed around mapped existing services underground, which were identified though records and detecting any extra cables and pipes using a scanner. Having started work the construction team found unmapped underground services and obstructions. This meant that a new drainage system had to be redesigned and approved before constructing it.
The crossing is part of the work to improve pedestrian and cycle routes from Guildford Station into the town centre. Once completed the route will be much safer, pleasant and more accessible.
The new crossing will be raised to slow vehicles and allow pedestrians to cross more safely. It will also be much wider to prevent a bottleneck approaching Walnut Bridge.
While work on the pedestrian crossing is going on, a portion of Walnut Tree Close will be closed to vehicle traffic and diversions will be signposted. Access to the station will be possible from the south end of Walnut Tree Close and pedestrians will be able to access the Close from both ends. One side of the bridge will be open with the temporary scaffold ramp in use for pedestrians. There will be no access from Walnut Tree Close to the towpath by the bridge during the works, although the towpath will be open.