Guildford councillors agree Waverley partnership document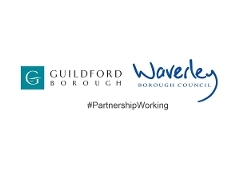 A draft Heads of Terms for the Inter Authority Agreement (IAA), that will form the basis of the partnership between Guildford and Waverley borough councils, has been agreed by councillors at the Guildford Borough Council meeting last night (5 April). The IAA is a contract between the two councils, containing the legal framework under which the partnership will operate. It sets out the principles of how the two organisations will work together and how assets will be used, how staff will work for both councils, and how costs - and savings achieved from the benefits of the partnership - will be shared. It also contains a formal dispute resolution process, should the two councils be unable to reach agreement on a particular issue.
Completing the agreement represents the next major milestone for the collaboration programme after Tom Horwood was appointed Joint Chief Executive of both councils at the end of last year. Mr Horwood and a cross-party group of six councillors (three from each council), have been meeting weekly to develop the agreement and finalise the document. It will now be put to Waverley councillors to debate at their Full Council meeting on 26 April.
The collaboration aims to help both councils cut costs by reducing the duplication of work, increasing efficiency and purchasing power, providing better value for money for residents and helping to protect local public services. Once in place, the partnership will be one of the largest between borough councils in the country, providing local services to 275,000 residents.
Once the IAA has been adopted by both councils, the next phase of the partnership will be the appointment of the Joint Management Team, which will work for the two separate councils. This will include directors and heads of service. The Joint Management Team will then be asked to develop business cases for further collaboration.
Leader of Guildford Borough Council, Cllr Joss Bigmore said: "I'm delighted that our councillors have agreed the IAA. This will allow us to work much more closely with Waverley and improve our services, as well as sharing costs and savings. Since the appointment of our Joint Chief Executive, we have begun to see these benefits, in the way that we have been able to share our learnings and experiences. Together we will also have a stronger and louder voice that will help us in discussions with government and with other partners.
"We continue to operate in extremely challenging times with both councils facing ongoing and increasing budget deficits. Despite being on track to achieve our target of £8million savings through our own internal transformation programme, we need to save a further £6millon - 10% of our spending - over the next four years.
"The agreement is a big step toward our overall goal of keeping important services and spending our increasingly limited resources wisely, offering more value for money to our residents. We are confident that closer partnership working, through a shared management team is the best option for future-proofing our services for residents, while each retaining separate democratic identities.
He added: "Thank you to everyone who is working on this."
Leader of Waverley Borough Council, Councillor Paul Follows, said: "It's very easy to agree that our partnership makes financial sense for residents, but when confronted the reality of the situation, many of these types of arrangement have failed to make it over the line due to a lack of political will or trust between the partners. I've been very pleased with the way cross-party councillors at both councils have been united by a desire to do the very best for our residents and worked together in such a constructive and dedicated way. The IAA will provide a solid foundation on which to build our partnership and I'll be encouraging our councillors to approve it at our council meeting on 26 April. I would also like to thank the staff at both councils, particularly the senior management - for whom this is not an easy situation to be in - but who have displayed the utmost patience, dedication and professionalism throughout this process.
"Combining the strengths of Guildford and Waverley borough councils has the potential to deliver better value and better services, but we also need to recognise that continued cuts to our funding from Government are still a dark cloud on the horizon. Waverley's funding from Government will fall effectively to zero over the next four years. This comes at a time when we are facing intense pressure from increasing demand for our services and higher costs. We continue to do all we can to cut costs and generate other income to protect core services - and we keep calling for a re-think on how local government is funded.
"I want to reassure our residents and businesses that our partnership with Guildford is operational and not political. Our two councils will retain separate decision-making processes and finances, and we will continue to focus entirely on the needs of our own communities. By working together and combining the strengths of our two officer teams, we expect to not only make efficiency savings but also improve our local services."