Jubilee celebrations at Guildford Museum 14 May - 18 June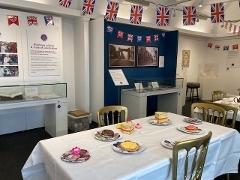 Visit Guildford Museum between 14 May and 18 June for Jubilee celebrations. The celebrations include a new display, creating a royal tea table, and trying your hand at being a town crier.
Lead Councillor for Economy, Cllr John Redpath, said: "Don't miss the jubilee celebrations at the museum! Find out fun facts about how Guildford celebrates royal events and enjoy an interactive learning experience."
"Echoing traditions from Guildford's royal past you can enjoy these activities with your family and friends. Find the time to visit this inspired display or drop-in to an activity where you will become a part of the celebration."
Platinum Jubilee - A Time of Celebration, is the Jubilee themed new display at Guildford Museum open between 14 May - 18 June.
Take part in our drop-in activity to create a dish for the royal tea table. This activity takes inspiration from the traditional street party. Vintage crockery will sit on the tea table alongside papier-mâché crockery and salt-dough food, created in sessions with young people from the Halow Project.
On 1 June visit the museum and take part in a fun and creative activity to create a traditional tri-corn hat as worn by the town criers and meet Guildford's Town Crier.
There are two free sessions; 12-1.30pm and 2-3.30pm. After, there is the chance to meet Guildford's Town Crier, Mr David Peters and hear him "cry out" the good news and ring his bell.
The display and activities are free to access and are running on a drop-in basis. The museum is open from Wednesdays to Saturdays 12-4.30pm (last entry 4pm).