Birmingham 2022 Queen's Baton Relay to visit Surrey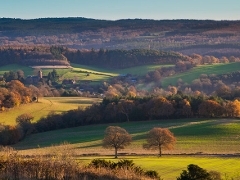 *This news came from Birmingham Organising Committee for the 2022 Commonwealth Games Ltd*
Birmingham 2022 is hosting the Commonwealth Games this summer and in the build-up to the Games we will see the Queen's Baton Relay, a tradition that celebrates and connects communities across the Commonwealth.
The Birmingham 2022 Queen's Baton Relay on 7 October 2021. Since then, the Baton has visited Commonwealth nations and territories around the world. The final countdown to the Opening Ceremony in Birmingham on 28th July 2022 will see the Baton Relay travel across England for 29 days.
During its time in Surrey the Queen's Baton Relay will visit Newlands Corner at 8am Thursday 7 July and will be cheered on by local school children with the backdrop of the stunning Newlands Corner viewpoint.

International and Olympic hockey player, Zach Wallace from Caterham is the nominated official baton bearer for Surrey.
Surrey County Council leader Tim Oliver said: "We feel extremely privileged to welcome the Queens Baton Relay to Surrey and are very proud to showcase the beautiful Surrey Hills as the backdrop to part of the Queens Baton route across the Commonwealth. I'm sure the local school children that have been able to take part in welcoming the Baton to Surrey will remember this for years to come. It's great for Surrey to be a little bit of history."
Leader of Guildford Borough Council, Councillor Joss Bigmore said: "We're proud to have the Queens Baton Relay coming to Guildford as part of the build up to the Commonwealth Games. Keeping fit and healthy is so important for all ages and events like this not only shine a light on sports but encourage us all to stay active and have fun. Thanks to all involved in making this happen. Our borough is full of beautiful green spaces and parks for residents and visitors to enjoy plus much more. If you're coming to Surrey, make sure you take time to visit Guildford!'
The event will run from 8am to mid-morning. Newlands Corner car parks will be closed from the previous evening until late morning on the 7th. No roads will be closed. Local schools are being invited to cheer on the baton but due to logistics (space/access), the event will be invitation only.

For more information on the Queen's Baton Relay visiting Surrey, please visit the Visit Surrey website. For more information on the Queen's Baton Relay, please visit the Birmingham 2022 Commonwealth Games website. Birmingham Organising Committee for the 2022 Commonwealth Games Ltd is an executive non-departmental public body, sponsored by the Department for Digital, Culture, Media & Sport.