More funding approved to connect rural communities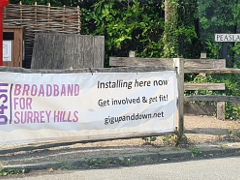 We will be giving money to make sure that our rural communities can gain fast access to the internet. The Executive agreed to invest £40,000 in the fibre to the premises (FTTP) project, which is run by Broadband for Surrey Hills Ltd (locally known as B4SH).
Broadband for Surrey Hills is a not-for-profit Community Benefit Society. We became shareholders in 2018 when we invested £10,000 to support the project starting. The aim is to provide 1GB per second or 1,000 MB per second of internet connection to rural communities in the Surrey Hills. Better internet improves the resilience and competitiveness of our rural areas, bringing them up to speed with other Guildford communities. In 2018, the Council agreed to consider additional funding after the first phase of rollout.
Councillor John Redpath, Lead Councillor for Economy said: "It is more important than ever that we make sure our rural residential and business communities have access to strong and secure broadband connections. We've had big cultural shifts in the way we work and connect with friends and family, which have been increased by the pandemic. By improving our broadband infrastructure, we remove barriers for remote working and other activities.
He added: "Today's decision will support Guildford's digital sector and help us achieve our ambitions of becoming a digital borough. It is important that we prioritise equal access to opportunities and services for our rural communities now and in the future."
B4SH are rolling out connection in a domino style to 200 more properties in 2022-23 in the Albury, Shere and Peaslake areas. B4SH improves the broadband experience of its subscribers by an average of 946 MB per second.
We have also given free wayleaves, where ducts and fibres have been installed in land we own to make improved internet access possible. B4SH has successfully secured agreement from private landowners to give free wayleaves. B4SH has engaged homeowners and community volunteers to dig the routes and lay duct and fibre to connect premises.