Have your say on how we tackle air quality in our town centre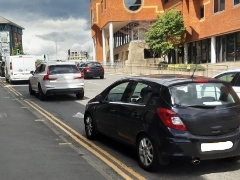 We want to find out your views on our draft plans to improve the air quality in the town centre. Our draft Air Quality Action Plan (AQAP) suggests measures to consider for tackling the problem and achieving national air quality objectives in this area.
Cllr Cait Taylor, Lead Councillor for Climate Change, said
"It's vital that we take action to improve air quality and the health and quality of life of Guildford residents and visitors. Our draft AQAP aims to:
reduce air pollutants in Guildford
improve air quality in the Guildford Town Centre Air Quality Management Area (AQMA)
The final plan will outline:
the actions the Council aims to deliver between 2022-27
how we plan to reduce the levels of Nitrogen Dioxide (NO2) in the Town Centre AQMA
how the plan will improve air quality in the wider Guildford area
how we will reduce other pollutants in the ambient air.
"Your answers will be used to help us develop our final AQAP. If it's approved by our Joint Committee in October 2022, it will go to the Department for Environment, Food and Rural Affairs (DEFRA) for approval."
The survey closes on Wednesday 3 August 2022.
Have your say on the air quality action plan
Published on: 01 July 2022