Christmas 2022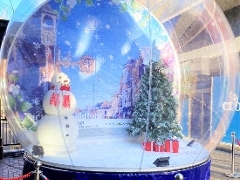 Leader of the Council, Cllr Joss Bigmore said:
'We are creating a new Christmas experience for Guildford this year. You can look forward to a long weekend dedicated to launching the festive season in November. They'll be fun family activities, music, performances, interactive theatre, a market and Christmas trees. You can do your festive shopping with money off deals and special offers. Our beautiful Christmas Lights will be lit throughout the town.
We have a month of markets from Christmas crafts and Brocantes, to Ethical Vegan and fantastic Farmers' Produce. Our shopping centres have some special events planned too. Don't worry if you'd prefer to just watch the World Cup. Lots of town centre pubs and bars will be showing the football from 21 November to 18 December.
Traditionally, we organised a Christmas Lights switch on event with Experience Guildford, our town centre Business Improvement District. The free to attend event was a couple of hours long. It grew so large we had over 7,000 people tightly packed into the High Street.
In 2019, we commissioned a safety review of the event to provide assurance that everyone attending was safe. We have been unable to celebrate in the same way for the past few years. This has given us time to reflect on how to mark the start of festivities for everyone. We want you to enjoy safely while getting good value for your money. We also want to support our town centre retail and hospitality businesses.
The Council faces significant financial challenges. Despite this, we have protected our budget for Christmas celebrations and have not reduced it. However, we cannot deliver a Christmas Lights Switch on event safely for the anticipated size of the crowd. We would need an external event and crowd management service to do this. We cannot afford or justify value for money for such an additional significant cost.
Celebrating the festive season is something we all look forward to. This year, our festivities will be even better, they'll fill more of our town centre and last longer. We continue to work closely with Experience Guildford and collaborate with our brilliant arts and culture businesses.'
More information will be available nearer the time.
Published on: 4 August 2022