Guildford Lottery Winner scoops top Prize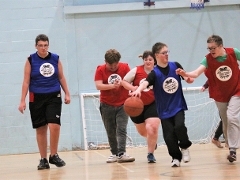 Our Guildford Community Lottery helps good causes connect with the community to raise money.
Recent winner of the £25,000 jackpot, Mr B from Bracknell, said:
"I got involved in the lottery when Scorchers Basketball Foundation signed up as a charity to benefit from the great work done by the Guildford Community Lottery as a fun way of supporting the charity whilst having the chance of an occasional cash win.
"Never did I think I would win the jackpot, so it was a fantastic and unreal feeling to receive the email informing me that I had matched all six numbers and had won the jackpot.
"I had to read and re read the email and check the website a few times to make sure I was seeing it correctly. I am still in a bit of a shock and the win is still sinking in. In the short term, we are planning to use some of the winnings on a luxurious holiday that we were saving up for."
Deputy Leader of the Council and Lead Cllr for Community, Cllr Julia McShane, said:
"Congratulations to the winner. This is such a great way to support local good causes and voluntary organisations. I hope this recent win will encourage more residents to get involved and new local charities, clubs and organisations sign-up to help raise funds. It is a fun way to have a positive impact on the local community."
Cllr McShane went on to say:
"The Scorchers Basketball Foundation makes basketball accessible and inclusive to all. Anyone can support them or any other local cause by buying a lottery ticket."
It is easy to take part in the Guildford Community Lottery. Your chosen good cause will receive 50% of each ticket you buy from their page. Tickets cost £1.
A further 10% of each ticket goes to Guildford Philanthropy. This is a charitable fund set up by us in 2014 to transform the lives of less fortunate members of the community.
There are weekly cash prizes of up to £25,000 to be won as well as national prizes throughout the year. The Guildford Community Lottery is a fun way to help your local community.
To support a local good cause of your choice or play the lottery visit the Guildford Community Lottery website or call 01483 338885.
Published on: 8 August 2022