Stoke Park Tennis Court Wall Repairs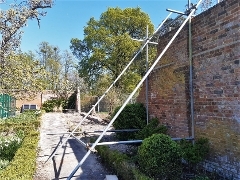 In February, Storm Eunice blew over a large section of the historic wall in Stoke Park that separates the sensory garden from the tennis courts. Works to reinstate this are due to start on 30 August.
This work will mean that part of the remaining wall will be demolished, and the other end supported. While these works take place, the sensory garden will be closed for 10 weeks.
Leader of the Council, Cllr Joss Bigmore said:
"We were able to save a considerable amount of brick from the collapsed wall that we can re-use. By using this and new, similar brick in lime mortar, when it is finished, the wall will look almost the same as it was. We will also be adding steel bracing to help stabilise it from any future storms."
Lead Councillor for Environment, Cllr James Steel said:
"We want to make sure the public is safe through these essential works. That is why the pathways in this area will be closed. In addition, a temporary surface in the sensory garden will be used for the construction works to take place, protecting the planting. When the works are complete, the gardens will open."
Published on: 18 August 2022
Updated on: 23 August 2022