September is walking festival month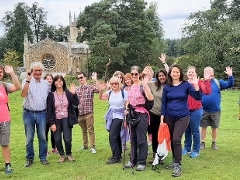 We are one of the main sponsors of Guildford's Walkfest. Bringing you a whole month of walks to enjoy. Whether you are a keen long distance walker or a first timer, there is something for everyone. Running throughout September, Guildford Walkfest offers a different walk every day.
Guildford walking groups have come together, using walking to promote the area. Among them are The Ramblers and Guildford Health Walks. They have joined up with Guildford Town Guides and the Surrey Hills Society.
Chairman of Guildford Walkfest, Chris Howard said:
"I am looking forward to meeting up with our groups. Living in the area for over 30 years does not limit new discoveries. Every year during Walkfest I still find new places to explore. This year I am excited to find out what new adventures there are in the borough. We are grateful to Guildford Borough Council for supporting this initiative. Guildford Walkfest is a great way to appreciate the area you live in. It is also a chance to share the health and wellbeing benefits of walking."
Deputy Leader and Lead Councillor for Community, Julia McShane said:
"Walkfest brings many benefits to our community. Walking is one of the best ways to reduce stress and improve fitness levels. The festival encourages residents to get out and meet others. You will enjoy exploring and getting to know your local area. Thank you to everyone leading on walks this year.'
For more information:
Visit the Guildford Walkfest website
Published on: 18 August 2022