Car Free Day 2022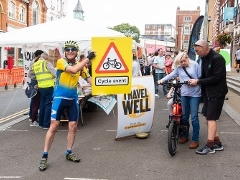 Be part of Guildford's celebration of Car Free Day on Sunday 25 September as we put pedestrians first in the town centre.
The town centre will be transformed from 10am - 4.30pm with market stalls, street food, live music and street play for children. There will also be lots of information about how residents can do their bit to help tackle climate change.
Lead Councillor for Climate Change Cllr Cait Taylor, said:
"It's really important that we start thinking about the bigger picture. About how we tackle climate change, and the individual roles we all play.
"Although this is one day, and won't fix the pollution issues we have, I want people to use this day as a catalyst. By leaving our cars at home, we may find that it's easier and better for both the environment and our health, to use alternative forms of transport. So I encourage everyone to come and join us in Guildford for a taste of a better future. Remember to bring your reusable bags and water bottle!"
Ward Councillor for Holy Trinity, Cllr Maddy Redpath, said:
"This exciting day is a chance to show people what our town centre could be like without cars.
"Reducing our car use is so beneficial for our bodies and for our planet. We are committed to becoming a net-zero carbon borough by 2030. Making journeys without our cars can be more convenient than a lot of us first think.
"Car Free Day is going to be a lot of fun whilst showing us all what a more pedestrianised town centre would be like. So, leave your car at home. Walk, cycle, skate or grab a bus or train and come to the town centre for an enjoyable, traffic free day."
A small taste of what's on:
Cycling in but don't know where to park? We are providing extra bike racks on North Street, Tunsgate, High Street and the Upper High Street during the day. Safely park your bike right in the town centre. Remember to collect your bike by 5pm.
The team are running a Dr Bike safety clinic, where visitors can bring their bikes along and have a free safety check. Your bike will be assessed and given any minor adjustments to make it more roadworthy and safer. Items such as tubes, tyres and brake pads will be available to fit if required. The only cost to the customer will be for any parts used, which will be explained before any work is done.
Guildford Environment Forum
Find out about how more than 330 Guildford Environment Forum members have been tackling the loss of biodiversity and promoting sustainable transport solutions over the last 28 years. Transport contributes more than 40% of Guildford's carbon emissions, find out how you can reduce yours.
Find out how you can help Guildford become carbon neutral. There will be plenty of vegan treats to try, active travel options to consider, local holidays to explore, as well as advice on reducing food waste and eating healthier options. Partner groups will be on hand to share practical steps for living and working within the earth's means.
Have fun on Tunsgate with our Community Wellbeing Team. The Playrangers will be on hand all day so you can play `traffic free'. If you have fun, why not join a Playranger session Monday - Wednesday.
Flying Colours Entertainment
Try tight rope walking, juggling and circus skills on North Street with Flying Circus Entertainment. Afterwards check out the North Street Development plans with St Edwards model plan.
The Norwood Wind Ensemble play from 2-4pm. Formed in January 2008 by Brian and Sarah Cox, their repertoire is varied. From wind band classics and marches, to classical, popular and modern compositions and arrangements, they play something for everyone.
Enjoy the multi-layered singing experience of Rock Choir. Hear them outside the Guildhall on the High Street at 11am.
For more information, such as road closures and suggestions on how to get to the town centre without a car visit Car Free Day