Plans to regenerate Guildford Town Centre Riverside move to next stage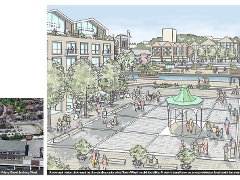 Our council Executive have agreed to move to the next stage of Shaping Guildford's Future.
A report presented to councillors on Thursday 22 September endorsed Stage 2. This delivers an informed Concept Masterplan validated by infrastructure strategies.
This latest work has been shaped by an extensive community stakeholder engagement campaign.
Shaping Guildford's Future will, over a period of time, transform the area along the riverside. The river, the town's most significant natural asset will be the focus for its regeneration.
The programme has major benefits for Guildford's community, businesses and environment. It will develop a proactive regeneration strategy. This will address the economic challenges and physical constraints facing the town. This includes the retail downturn and the impact of the COVID-19 pandemic.
Deputy Leader of the Council, Cllr Joss Bigmore says:
"The work completed by our specialist team, puts us in a strong position to deliver on our priorities. These are to build affordable new homes, create jobs and achieve our climate change goals to reach net zero emissions by 2030.
"We've listened to people's views. We share their ambition to develop a town centre fit for the future. That's a town centre with sustainable living, high-quality public spaces, leisure and cultural facilities. All easy to get to by walking or cycling.
"To recover from past decline, it's vital we continue our journey. If we don't, we will fall even further behind our competitor towns in Surrey."
Lead Councillor for Regeneration, Cllr John Rigg, said:
"I am very pleased to reach this milestone and grateful for the detailed work delivered by the project team. This reveals the opportunities and options we have to make the best of our town.
"The ideas are truly inspirational. Much of the work is essential if we are to address the problems and transform the riverside. Our ambition is to make the town centre a place where people want to be again.
"Moving to Stage 3 in the programme will allow us to:
deliver our masterplan for a better town
advance a flooding solution with the Environment Agency
progress a deliverable solution to overcome the existing transportation constraints
place the authority in a good position to be able to bid for grant funding
"There are challenges to address, but with a plan and energy they can be overcome.
"This is an opportunity to make a difference. To make a better town, to embrace the riverside and provide for future generations".
More information including a copy of the Executive Report is available on the Shaping Guildford website
Published on: 22 September 2022