See our latest plans for the Guildford Park Road site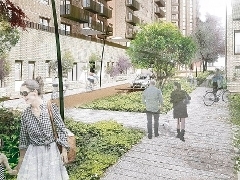 We are holding a Public Exhibition and webinar during November.
Updated proposals for the Guildford Park Road site will be on display next month at Grace Church in Guildford.
The proposed development will provide homes that Guildford needs. We are planning quality, energy efficient, and sustainable homes located close to the station and town centre.
Over the last six months we have reviewed feedback and comments from the community and organisations. We are now ready to share the updated proposals with residents and stakeholders. A second round of public exhibitions and an online webinar is being launched. We are inviting the local community to join the project team at these events.
Our plans include a mix of homes to meet a range of accommodation needs. We want to create homes suitable for all including those for families and first-time buyers. Providing more affordable housing is a priority for us. At least 40% of the development will be available to rent for people on our housing register or to buy through a shared-ownership scheme.
We are looking to use quality materials that result in homes built to last. There will be new green spaces and play areas for communities to enjoy. The project team have carefully considered our town's heritage and been mindful of protected views.
Public Exhibition
The exhibition will take place over two days at Grace Church:
Monday 7 November from 3pm to 7pm
Tuesday 8 November from 1.30pm to 5.30pm
Grace Church is close to the proposed site on Guildford Park Road, Guildford, Surrey, GU2 7NF. We will be sending invitations to local residents.
Online Webinar
A webinar presentation will take place on Wednesday 2 November from 6pm to 7pm.
Register to attend the webinar or view the proposals.
Leader of the Council and Lead Councillor for Housing and Community, Cllr Julia McShane, said:
"The project team has listened to people's feedback. The design team has updated the plans to reflect the comments we have received. This is a great scheme that will redevelop the area.
"The site will offer a wide choice of new homes, including at least 40% affordable housing. The homes will be amongst the most energy efficient homes in the borough with at least 60% less emissions than required by national standards. The location also benefits from great transport links."
"I encourage the community to attend the exhibition or webinar presentation. You will be able to see our updated plans before a proposed planning submission later in the year."
If people are unable to attend these sessions, you can find out more information on our web site. After the webinar, we will publish a recording.
Published on: 20 October 2022