Planning performance statistics published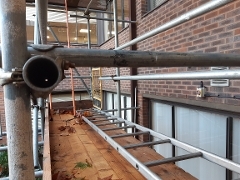 The Department for Levelling Up, Housing and Communities has published quarterly planning statistics. They show that our performance levels are not improving as fast as we would like. Since the end of June we have reduced the backlog of non-major planning applications. But we realise we still need to do more.
We know that delayed planning applications are frustrating for residents and businesses. That's why in the summer we put in place a plan to reduce the accumulated backlog triggered by:
an increase in planning applications
recruitment challenges
the impact of the pandemic
These factors have adversely affected our speed in determining non-major planning applications.
The Lead Councillor for Development Management, Cllr Tom Hunt, explained:
"Over the last few months, we have been working hard to reduce the backlog of planning applications. A clear priority has been to speed up our assessment process and provide quicker decisions. We have employed external planning consultants and temporary planning officers to improve performance. We intend to extend these arrangements to supplement our internal planning team.
"We are also reviewing the structure and resources in our planning service. We have appointed an interim Head of Planning Development. We are recruiting more planning officers. The nationwide shortage of planning officers is making it hard to recruit."
The nationwide shortage is particularly acute in the South-East.
Cllr Hunt went on to say:
''Our current performance level means that we must suspend the pre-application enquiry service for non-major developments. This will be for a temporary period. We will resume this service when we have cleared the backlog and appointed our full quota of planning staff."
Cllr Hunt added:
"Despite the performance level for non-major applications, I am encouraged that our performance on applications for major developments remains good. It is well above the government's performance threshold."
View local planning authority performance tables
These tables are published by The Department for Levelling Up, Housing and Communities
Table P151 for major developments
View Table P513 for minor developments
Published on 21 December 2022