Nominations to open for The Mayor's Award for Service to the Community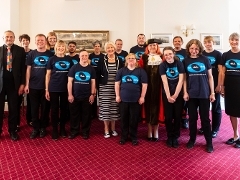 Do you know a person or group that has made a significant difference to our borough?
The Mayor's Award for Service to the Community recognises individuals, groups and organisations who have gone above and beyond to serve their local community.
Nominations open on 1 January 2023. The deadline for nominations is Friday 3 February 2023.
The Mayor of Guildford, Councillor Dennis Booth, said:
"We want to recognise and celebrate people who have made an outstanding contribution to life in Guildford. We are looking for people in the community who go above and beyond to improve the lives of others. Nominations can be for an individual or an organisation who have done exceptional work in their community to improve the lives of others or foster good relationships.
"These awards provide a real opportunity for those who have gone the extra mile to be celebrated by the community they support. The people who win the awards are so important in inspiring others to encourage positive community work in our borough.
"I would also like say thank you to The County Club for kindly sponsoring these awards."
Kevin Lorimer, General Manager of the County Club added:
"The Mayors awards are a great way to recognise those individuals and organisations who do so much for the local community away from the limelight. The County Club is glad to be involved and host such a prestigious occasion."
The nomination form is quick and easy to complete.
To submit a nomination, you can:
Submit your nomination through the Mayor's pages on our website (live from 1 January 2023)
email CivicSecretary@guildford.gov.uk
call 01483 444031 for a form
Completed paper forms should be sent to: The Mayor's Office, Guildford Borough Council, Millmead House, Millmead, Guildford, GU2 4BB.
Successful nominees will be invited to attend an awards event on Saturday 29 April 2023.
Nominations are accepted in good faith but please provide a supporting letter. An individual or organisation cannot win an award more than once, so please do not nominate a previous winner. Details of the nominator will be shared with the recipient upon request.
Vicky Robinson, from the National Eczema Society, received an award for her effort and commitment over many years including raising awareness and fundraising. Vicky said:
"It was an honour and a delight to get this award and accept it on behalf of our local support group. They inspire and encourage me, we truly are a team. We give support to eczema sufferers and their families. We launched the Combined Charities Christmas Fair over 20 years ago. The fair gives many charities the opportunity to showcase their work and raise funds. The Mayor very generously supports the Fair. I want to say a big thank you to everyone involved. They all deserve this recognition too."