Crowdfund Guildford funding open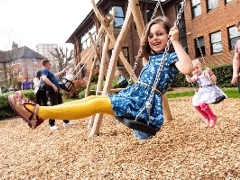 We have launched a new funding round as part of our digital crowdfunding initiative, Crowdfund Guildford. This round, up to £10,000 funding will be available to each project so we can continue to support community-led ideas that help Guildford thrive.
Register for workshop
We will hold a workshop, alongside our partner Spacehive, for anyone in the community to discuss their project ideas on Thursday 23 February 2023.
Register for our free online workshop on Thursday 23 February
Create your project idea
Through our initiative Crowdfund Guildford, we give our residents the chance to get important funding for their community projects. Working in partnership with Spacehive, we encourage our communities to be creative, resilient, and connected. The deadline to express interest with your idea is 29 March 2023.
Create a project with Crowdfund Guildford
In the last round
We pledged just under £4,500 to projects in the previous funding round, supporting a total of £47,703 raised to Crowdfund Guildford projects in the last year. Projects included Celebrating Disability Art in Guildford, offering children and adults with learning disabilities access to art workshops and exhibitions. As well as our pledge, this project received pledges from over 55 community backers.
View other successful projects funded through Crowdfund Guildford