Unlicensed dog breeders prosecuted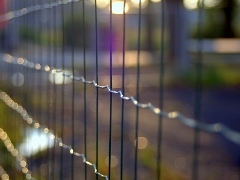 Our Animal Welfare Officer has successfully led a prosecution in relation to the operation of an unlicensed dog breeding establishment at Wyke Heather, Normandy, Guildford.

Following an investigation lasting almost 3 years and court case, a guilty verdict was delivered on Wednesday 3 May at Staines Magistrates Court.

District Judge Cooper heard evidence from members of the public, as well as our officers, the Police and a Veterinarian. The judge stated that it is almost ridiculous to suggest that breeding was not going on at the site.

The Judge wanted it noted that the defendants were not unkind and did not intend to ill-treat the animals.

The defendants, Mr Philip Gray and Dr Louise Keenan have been convicted of the offence and are on unconditional bail. Sentencing will take place in Guildford Crown Court on 31 May.

Peter Burnage, Animal Welfare officer said: "If you're thinking of buying a puppy, please do your research. Ask if the seller has a licence and check with us if you're in any doubt. If you're suspicious or in any doubt, please get in touch with us on 01483 505050. If you're breeding dogs or thinking of doing so, please check the legislation first. Contact your local authority if you need information about animal licensing."