Meet your Mayor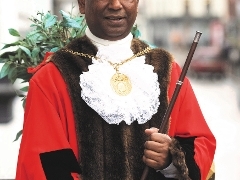 About Guildford was in conversation with our Mayor, Cllr Masuk Miah. Emanating positivity and full of pride for Guildford, Masuk talks about the importance of community, the wealth of culture in our borough and how his love of football will shape his time as Mayor. 
What's it like to be Mayor of Guildford? 
"You're going to ask me how I'm finding being a mayor, and I tell you now, I love it!"  
Masuk starts our conversation with inspirational, positive vibes. He continues to explain why he feels like it's the perfect role for him.  
"One of my hobbies is meeting people. Everywhere I go, every Mayor engagement, I meet someone I know!" 
Why did you become a councillor? 
"I've lived in Stoughton years and been a councillor for 20 of them." He explains. "When I opened a restaurant, I was serving the community and now I am serving people in a different way. Now, my three children are adults and so I have the time to spend with my residents."  
He is a hands-on Mayor, preferring face to face contact. "I might not be able to solve every problem that a resident brings to me. But if I talk to someone in-person about their concerns, it reassures them." 
What do you love about Guildford? 
He talks about the importance of community and sharing experiences: "No town is complete without different communities" He enthuses. Masuk is the first Mayor from a minority group that Guildford has ever had. He celebrates this: "I am so proud of that. I represent Guildford, and we welcome diversity.  
"I share my experiences with the different communities I meet. It's a gift. And it is making a change. When I first moved to England I lived in Birmingham and it was a very different place. There was hate crime and discontent. That is changing, because we are learning about each other with every shared experience. 
"I recently visited the Ukrainian school on Ukraine's National Day. I and my fellow councillors learnt so much from seeing the children in their traditional dress and celebrating their country with joy, despite many of their loved ones being away at war." 
He offers valuable advice: "Smiling and talking doesn't cost anything, but can change lives. It's a gift. I keep smiling through my Mayoral year and my life." 
Masuk is optimistic about Guildford's future: "I see new ventures opening and people coming out to the town centre. The Council is supporting that, and I think the future is promising."  
He is amazed by the wealth of local history we have in Guilford: "Since becoming Mayor, I have visited places that I didn't even know existed, like the George Abbott hospital.  
Tell us more about what you are excited about as Mayor  
Masuk paints a vibrant picture of the borough's green spaces: "I spent the first seven years of my life in Bangladesh, which is a tropical country. Now, it gives me great pleasure to look out over Guildford's green landscapes which look so similar. I am excited about seeing more of Guildford in my Mayoral year, spending more time in this countryside."  
What are your main goals for your time as Mayor? 
He plans to put his love of football to good use during his mayoral year: "In May 2024 I will hold the first ever Mayor's football tournament to raise money for my chosen charity, The Fountain Centre. 
"I'll roll the ball first! Everyone is welcome to come and support the day. Guildford City Boys and Girls Football Club is getting involved and local caterers will be selling food. I have a fundraising target of £5,000 so please come and help me smash it!" 
Why did you choose the Fountain Centre as your Mayor's charity? 
He explains why he chose the local cancer support centre as his chosen charity: "I have done a lot of charitable work for cancer charities, because both my parents died of cancer. The Fountain Centre is such an important local service for our communities." `
He has a very clear final message for residents 
"One day, we will be old and then we will look back at all of our experiences and enjoy those memories. So, come out, enjoy yourself. Guildford is a wonderful town. It is full of hidden treasures and rich with history. Don't have any regrets and keep learning every day!"