Our Acts of Remembrance for 2023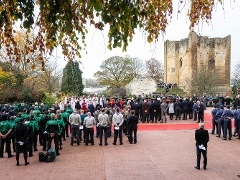 Each year on the eleventh hour, of the eleventh day, of the eleventh month, we pause to remember those who have lost their lives in two world wars and other conflicts around the world.
We'll be holding two events to mark Remembrance this year.
Armistice Day - Saturday 11 November
A short ceremony will take place on the balcony of the Guildhall in the High Street. The Revd. Ben. Cahill-Nichols, will welcome those gathered, as we prepare for the two-minute silence.
Shortly before 11am: Reading of the Exhortation.
Richard Straker from the Friary Brass Band will sound the Last Post.
11:00 am: The Mayor, Cllr Masuk Miah, the balcony party, and members of the public will gather in the High Street to observe the two-minute silence.
After the 'Reveille' The Kohima Epitaph will be read. The ceremony will then close.
Remembrance Sunday - Sunday 12 November
9:30am: Flowers laid under the VC stones in Tunsgate by:
Col (Retd) Patrick Crowley MBE DL
The Mayor, Cllr Masuk Miah
9:45 am The Borough Service of Remembrance will take place at Holy Trinity church.
10:30am (approx): After the church service, the parade will form on Guildford High Street. Veterans, cadets, the Mayor, councillors, and other dignitaries will take part in the parade.
Led by the Friary Brass Band the parade will make its way to the castle grounds for the two-minute silence.
11:00am: We will mark the two-minute silence with the playing of the Last Post. Wreaths will be laid at the War Memorials.
People are welcome to join any of the acts of Remembrance taking place in Guildford or their local towns and villages.
Armed Forces Champion, Cllr Stephen Hives said:
"The act of remembrance is an expression of unity, gratitude, and the commitment to preventing the horrors of war. We remember the sacrifice our Armed Forces and their families have made. We also remember those who have lost their lives as a result of conflict or terrorism."
Leader of the Council, Cllr Julia McShane added:
"We can never repay the men and women who sacrificed so much for the freedoms we enjoy today. In a world still torn by conflict, it's as important as ever to stop, stand and remember the huge loss of life caused by the hostilities of war."
Poppy Appeal
Volunteer Poppy Appeal collectors will be on the streets of Guildford until 12 November 2023. Please donate generously to support serving and ex-serving men and women, and their families.
On Friday 3 and Saturday 4 November, The Mayor of Guildford and others from our council will be collecting around the town.