Baby and children's memorial garden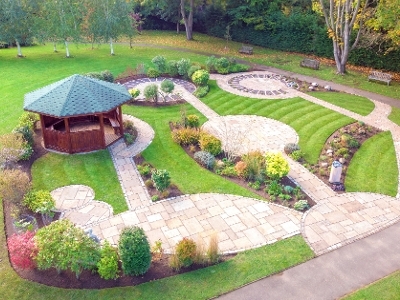 The Forget-Me-Not Garden is a beautiful baby and children's memorial garden at Guildford Crematorium, created in partnership with SANDS (Stillbirth and Neonatal Death Society).
Cremated remains may be laid to rest within the garden on the scatter lawn or buried below ground in individual private gardens.
If you would like any information about the options in the garden including prices, call us on 01483 444711 or use our online enquiry form.
Take a look at our short video showing the range of memorials available in the Forget-Me-Not Garden:
Individual private garden
Each private garden has a sandstone memorial with a leaf design tablet set in the middle with plum chippings and a vase for fresh flowers. Our staff will maintain the gardens.
Cremated remains will be laid to rest below ground within a wooden casket. The casket has been specially designed for the SANDS garden by a SANDS member and comes in both infant and child size.
The background of the casket is white with a Forget-Me-Not flower design in either blue or purple. Identification labels will be placed inside and a small plate bearing the name of the baby /child will be fixed to the top of the casket.
The private gardens may be leased for 50 years.
Mushroom memorial
Made from honeycomb granite, with a black granite disc and gold inscription, the mushroom memorials are available for dedication for a period of five years. There are two different sizes of plaque, depending on the inscription required. The memorials are maintained by our staff and the inscription is guaranteed for five years.
Rockery bed boulder
Made of a volcanic rock called basalt, the rockery bed boulders are grey/black in colour. This weathers to brown or rust-red over time. The lettering on the boulder is cut directly into the stone, painted silver, then sealed and the boulder can fit up to seventy letters of inscription. The boulders are available for dedication for a period of five years and are maintained by our crematorium staff.