Georgian Guildford Banks
Malcolm Watson, one of Guildford Museum's volunteers, takes a look at banknotes and the start of banking in Guildford.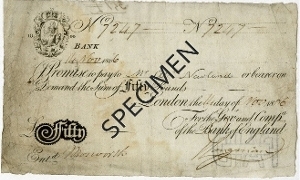 Following on from October's blog post Mint condition - coins from our collection, in this blog post Malcolm takes note of what came next.
Early banknotes
We think paper banknotes appeared first in China, in the early 9th century, possibly because of a shortage of copper for coins. The obvious advantage of notes was that traders didn't have to carry large quantities of heavy coins.
The Bank of England (founded in 1694 as banker to the government) was amongst the first issuer of notes in Europe. The first banknotes were entirely handwritten, often for a specific amount of money. The first partially printed notes, from 1725, were for amounts of £20 (about £3,000 today) and upwards in increments of £10. The highest denomination was £90. On the early printed notes you will see the words 'I promise to pay'. You still see these on notes today.

This £50 note was in use from 1725 to 1943, more than 200 years. ©Bank of England.
Until 1931 anyone could take a note to the Bank of England and exchange it for its value in gold. That year confidence in the pound collapsed and the gold standard was suspended. This was the direct link between sterling and the value of gold and since then the value of the pound has not been linked to gold. The Bank still honours the 'promise to pay' but you will get the value in legal tender, that is, probably another note.
Guildford's first bank
The story of banking in Guildford starts with a draper, William Haydon, who dealt in expensive, imported fabrics at his High Street shop and decided to build a strong room to keep his valuable stock safe. Other traders asked if he could keep their money safe for them and he realised he could invest this money. This generated more profit than the drapery business and so William set up the successful Haydon's Bank in 1765. At this time, banks issued their own notes and Haydon's notes were trusted as far away as Chichester. You could exchange a note for its value in gold in the same way as you could with Bank of England notes. The bank had to hold sufficient gold to cover all of the notes it had issued.

This note from Haydon's Bank dates from 1874, by which time the bank was known as Guildford Bank, taking the name from another bank; more on this later.
The bank was taken over by the Capital and Counties Bank in 1883. Haydon's Bank was last run by Dodsworth Haydon, who apparently used to 'lean over the counter on Saturdays to talk to customers in friendly fashion'.
The bank was absorbed by Lloyds Bank in 1920, who closed their existing branch higher up the High Street. The building remains Lloyds to this day.
Other early Guildford banks
There were other banks in Guildford. The original Guildford Bank was formed by Messrs Sparkes and Lee in Bank House, now Boots. William Sparkes, 'King of Guildford', was Mayor of Guildford several times. He was a significant figure in the town but drowned himself in the River Wey in 1840. The bank went into liquidation a month after his death.

This note dates from 1821.
West Surrey Bank was set up at what was 49 High Street, around where Superdrug is today. Run by Mangles, Keen and Co. it seems they may later have moved into Bank House after the Sparkes and Lee's Guildford Bank folded. The Mangles had an estate at Woodbridge.
There was a savings bank set up in Guildford in 1816 in the building over the Undercroft in the High Street. Ordinary banks would only take deposits over £10 (over £700 today) so there was a need for somewhere for ordinary working people to save their money. The Guildford Savings Bank was still in operation in 1926.
Other banks set up branches in Guildford. National Provincial took over the building that Lloyds had vacated when they moved two doors down and can be seen in these photos from, we think, the late 1930s. This is now NatWest.

In 1844 any new banks were restricted from issuing their own notes and by 1921 only the Bank of England issued bank notes in England and Wales. Private banks in Scotland and Northern Ireland, such as Ulster Bank, still issue their own notes but they have to hold Bank of England notes to the value of their own notes which they have issued. This is in the form of very high value Bank of England notes: the 'Giants' worth £1 million and 'Titans' worth £100 million.
The world has changed with payments increasingly made by card and, particularly in the current pandemic, by contactless forms. Notes are still around though and there are over 3.9 billion notes in circulation in the UK, worth about £71 billion.
Guildford local hero on future banknotes
The new £50 note, due for issue in 2021, celebrates the outstanding achievements of Alan Turing, whose family home was in Guildford, near Stoke Park. The design of the note includes drawings of the British Bombe, the machine devised by Turing, used to break Enigma-enciphered messages during the Second World War and tape showing his birth date in binary code. You can find out more about Alan Turing's links with Guildford in a fascinating walk run by the Town Guides, see the Guildford Walks website.

For more information and lots of interesting facts, visit the Bank of England website.

This photo shows Lloyds Bank and further up, National Provincial Bank in the late 1930s.
The blog post was written by Malcolm Watson, one of Guildford Museum's volunteers.