Armed Forces Community Covenant
The Community Covenant
The Community Covenant commits local civilian and military communities to working together more closely to support current and former armed forces personnel and their families. Our Armed Forces Champion is Councillor Tom Hunt and our Deputy Forces Champion is Councillor Dennis Booth.
The Armed Forces Network has drawn up a list of telephone services and helplines (PDF) [796KB] to support the armed forces community during the Coronavirus pandemic.
The covenant recognises the challenges that armed forces personnel may face in identifying and accessing public services and aims to make sure that all parties will be better placed to understand and meet those challenges. This is important when servicemen and women are making the move from military to civilian life.
Guildford proudly signed its Armed Forces Community Covenant in April 2013.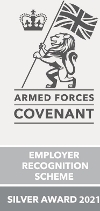 The aims of the covenant are to:
encourage local communities to support the armed forces community in their area
nurture understanding and awareness, among the public, of issues affecting the armed forces community
recognise and remember the sacrifices made by the armed forces community
encourage activities that help to integrate the armed forces community into local life
encourage the armed forces community to help and support the wider community, whether through participation in events and joint projects or other forms of engagement
View the Guildford Armed Forces Community Covenant. (PDF) [1MB]
For more information, visit the national website for Armed Forces Covenant.
Ministry of Defence Silver Employers Recognition Scheme
We are proud to be a Ministry of Defence Silver Employers Recognition Scheme Award holder for 2021 onwards for our commitment and support to the Armed Forces Community.
This award recognises that we, as an employer, provide exceptional support to the armed forces community and defence by going beyond the covenant pledge. We are able to demonstrate the positive measures and policies that we have in place to support veterans, reservists, Cadet Force adult volunteers and their families.
Forces Families Jobs training and employment help
Forces Families Jobs is a website giving information on employment and training opportunities for spouses, partners and family members of serving and reserve UK military personnel.
If you are an employer, this site gives you the chance to promote your organisation and showcase your commitment to the Armed Forces Covenant. You can advertise your jobs free of charge and access a large, highly-skilled candidate database of Armed Forces family members looking for work or training.
For more information, visit Forces Families Jobs website.
Forces Families Jobs involves a three way partnership of the Naval Families Federation (NFF), Army Families Federation (AFF) and Royal Air Force Families Federation (RAF-FF)
Improving access to housing
The National Homelessness Advice Service (NHAS) has developed a guide for advisors who are helping ex-Service personnel find housing.
Visit the NHAS website to download a copy of A Guide to Housing Options in England for ex-Service Personnel.
Grant funding
For information about deadlines, and to read the guidance and criteria on the Community Covenant Grant Scheme, visit Gov.uk Applying to the Covenant Fund.
For preliminary advice, contact armedforces@surreycc.gov.uk.
Applications can only be submitted online via Gov.UK's How to apply for a Covenant Fund Grant.
Commemoration
For upcoming military events in Guildford, please see the Guildford Borough Council
Military events in Surrey can be found on the Surrey County Council Armed Forces Events Calendar
War Memorials
To find War Memorials in Guildford please search the UK War Memorials Register.
Useful links
British Legion Community Covenant Best Practice Guide
Supporting Britain's Reservists and their Employers (SaBRE)