Fifty years of friendship
To celebrate the 50th anniversary of the Friends of Guildford House, Lynn Szygenda, our Exhibitions and Audience Development Manager, looks at the vital role the Friends have played in Guildford House Gallery's development.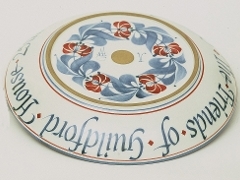 Hi, I'm Lynn and I work on programming exhibitions and events for Guildford Heritage Service. I get to organise events in the unique historical venues that the Service looks after, including Guildford Museum, Guildford's Castle and Guildford House.
At the moment, like many people, I'm working from home. When I am in the office, I have the privilege and pleasure of starting my day at Guildford House on the High Street in the middle of Guildford.
Now look at this for an office! Not everyone can say they spend their working day in a beautiful 17th century Grade 1 Listed town house.

Guildford House was built in 1660 by John Child to be his home and place of work. He was a lawyer and three times mayor of Guildford. Since then the house has had different uses: family home, office, shop and restaurant. It was acquired by Guildford Borough in the 1950s and opened as the town's art gallery in 1959.
I'm not the only person who loves Guildford House. I think everyone who works or visits here is captured by the charm and character of the building. It is especially loved by The Friends of Guildford House. The Friends were set up in 1970 by Iris Hawkins, former Curator of Guildford House. Their aim was to promote the arts, including through the work of our service.
In this, the Friends' 50th birthday year, it is a good time to celebrate the achievements and support of our dear Friends.
As well as enjoying our own exhibitions, the Friends organise a lively programme of activities, including art related talks and outings to galleries and places of interest, to ensure members have many opportunities to learn about, engage with, and enjoy the arts.
They have also helped our service to deliver educational activity to young people by funding art clubs or travel to our venue to enjoy exhibitions.
Sometimes the exhibitions we display come to us with rigorous environmental or security conditions attached. This was the case with Caught in the Crossfire: artistic responses to conflict, peace and reconciliation. This touring exhibition from the Herbert Museum and Art Gallery was shown in Guildford in 2015. The organisers asked us to give a level of security, which meant we had to organise a team of stewards during opening hours. With funding from the Friends, we were able to offer this as a development opportunity for students from the University of Surrey. We trained them as exhibition interpreters and they also gave the extra security the Herbert Gallery asked for.
With the Friends' support we were delighted to offer this chance to students and bring a very exciting exhibition to the town.
Our Friends have given much support in developing and caring for the borough art and craft collection; helping us to acquire some real treasures, undertake necessary conservation, and provide display cases in which we can show and share objects from our own and other collections safely.


We have collected a variety of items, including ceramics, sculpture, prints and paintings. They include local scenes of the town and countryside, which as well as being beautiful, help us build a visual record of how the area has developed over time.


Above left, this watercolour by Henry Prosser shows the Corn Exchange, Guildford in 1839. It was built opposite the Guildhall in 1819 on the site of the former Tuns Inn, in the style of a Tuscan temple; the portico sheltered the sacks of grain at the weekly markets.
Above right, by contrast the 19th century oil painting by Walter Wallor Caffyn shows a rural scene: The Weald of Surrey from Colley Hill.
Both of these paintings were conserved with the support of the Friends, making them available for display and for visitors to enjoy.
A feature of our collections are the paintings we hold by Guildford born John Russell.
John Russell RA (1745-1806), was a famous pastel artist and Painter to King George III. He was one of the leading portrait painters of his time, and pictured people from all walks of life, from quirky local characters to celebrities and royalty. We are proud to say that ours is the largest collection of Russell portraits in the UK.
The Friends made it possible for the service to acquire a number of Russell paintings. They are always a joy to display.

John Russell's pastel portrait of his sister in law, Judith, is one of the loveliest of our Russell portraits. The Friends of Guildford House presented this picture as a Millennium gift.
Dear Friends of Guildford House, we thank you for all your support and wish you a very happy birthday.
Blog post written by Lynn Szygenda, Exhibitions and Audience Development Manager, Guildford Borough Heritage Service.