Celebrating Volunteers' Week
Guildford Museum is celebrating it's volunteers from Friday 1 to Thursday 7 June 2018.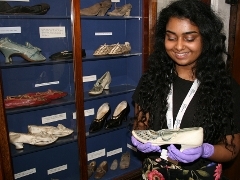 This week we are celebrating Volunteers' Week. Guildford Borough Council Heritage Services is proudly taking part in this scheme to thank those who generously offer their passion, time and skills in making Guildford and surrounding areas a great place to live, work or study.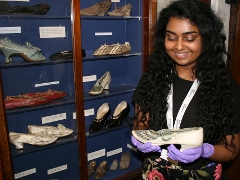 Here at Guildford Museum we have a wide range of roles that our volunteers enjoy fulfilling - from being gallery stewards, activity and event assistants to researchers.

Below, you can read what one of our volunteers, Parul, has to say about her Guildford Museum journey so far.
Hi Parul! Thank you so much for talking to us and agreeing to share your experience of being a museum volunteer on the blog. You have been a great help to the museum team, engaging directly with our visitors during the Games We Played exhibition. This must have been tricky, especially during half-term, so well done, you! Now let's start from the beginning.
Tell us about yourself and what encouraged you to start volunteering for Guildford museum?
Hello! I am a second year English Literature with Sociology BA student at the University of Surrey. I have fond memories of exploring London museums and galleries with my parents so have a soft spot for museum culture.
Interacting with members of the public and working on the museum's outreach development attracted me to begin volunteering at Guildford Museum. It is the perfect way to develop your communication skills and work in a friendly, interactive environment that is always changing.
I am also interested in digital media marketing and using social media to increase public engagement and advertise the amazing collections the museum has on display.
What are your highlights of being a volunteer at the museum?
I really enjoy meeting with members of the public and sparking interesting conversations about the museum's artefacts and displays.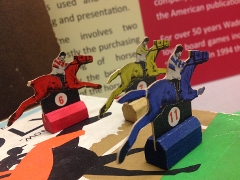 One of my personal highlights was interacting with a young child who was fascinated with the museum's collection of weaponry and artillery-based objects. He was very energetic and gave dramatic re-enactments of how the objects would have been used in a State of War.
I have also enjoyed talking to members of the older generation about their memories surrounding our recent exhibition 'The Games we Played'.
This was an interactive exhibition that allowed members of the public to play traditional games from their childhood and reminisce about their favourite past times and board games.
Do you have a favourite gallery or display within the museum?
My favourite space in the museum has to be the Lewis Carroll display. As an English Literature student, anything related to Alice in Wonderland instantly captures my attention and allows me to revel in the magic and mysticism that is found down the rabbit hole.
The gallery has several artefacts relating to Lewis Carroll, such as a pair of candlestick holders that came from the Chestnuts, the house that he rented for his family in Guildford. Some of the items include beautiful illustrations of Alice and other key characters from his stories.

My particular favourite from the display is the set of Alice in Wonderland Happy Families cards that feature illustrations from Alice in Wonderland and Alice Through the Looking Glass. The graphics are incredibly intricate and it looks like a lot of fun to play.
Do you have a favourite object in the museum?
That's a tricky one! I adore the shoes display. The museum has a collection of old shoes, some of which were 'hidden shoes' that would have been placed under floors, in chimneys and near doorways in homes - something people have done for many centuries.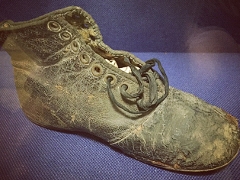 These were thought to ward off evil spirits and bring good luck to the household.
Some of the other shoes on display are also beautiful! They are wonderfully embellished and look incredibly regal.
One pair contains several locks of the owner's hair, taken by her mother at different ages.
Sadly, she died aged only 29 and the last lock of hair was taken shortly after she died. These shoes are definitely my favourite objects - they have so much personal history attached to them!
Finally, if you could curate an exhibition in the museum, what would it be?
I would love the opportunity to curate an exhibition focussing on middle-class Victorian fashion, design and innovation. With technological advancements and the mass production of sewing machines and synthetic dyes, women's fashion in particular evolved exponentially during the late-1800s.
Objects such as crinolines, corsets, ruffled sleeves and embroidered ball gowns would be displayed in order to show people the marvels of Victorian fashion.
We would like to thank you Parul and all our volunteers for your continued support, enthusiasm and contributions to the work of Heritage Services team across all our historic sites in Guildford.
If you are interested in joining our volunteering team, you can find out more about our current opportunities on .