A work experience week at Guildford Museum
Student Ada Rogers joined the Heritage Services team for an eventful work experience week. Find out more about her encounters with a mummified rat, discovering mystery objects from the museum archives and travelling back in time in the Victorian Schoolroom...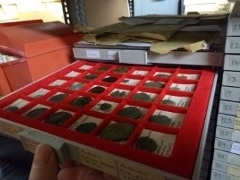 I chose to do a work experience week at Guildford Museum because I was in a dilemma as to whether I should take an history degree or an art degree at university. I decided that looking at museums, and the careers surrounding them, would be a helpful way of looking into ideas for the future. Curating exhibitions, planning family fun days, caring for buildings and passing on historical knowledge are some of the roles I explored during my week.
On Monday, feeling nervous, I arrived at Guildford Council offices for my induction, because the museum was closed for planned maintenance. Next, I had a tour of the sites, met the Guildford Heritage staff (all really friendly and welcoming) and learned about local artist, John Russell. One of his paintings is currently on display at Guildford House Gallery.

That afternoon, Sarah, the Collections Manager, and I visited the museum archive, to try to find some items for the VE (Victory in Europe) day exhibition, which will take place at Guildford Museum in May.
There are many interesting items in the archive; scrolls, flint axe heads and many Anglo-Saxon coins. There was also a letter dated 1944, from a little boy called Edward to his father in the army: "Thank you for the sweets, and I hope you are well."
On Tuesday morning, I was based in the Victorian Schoolroom. This consisted of two rooms: the playroom where the infant school children learned about the differences between modern and Victorian toys, and the schoolroom where the Victorian style class took place.
The children and I dressed up; I was called "Miss Sarah" and I helped the children make paper hats. I liked the activity - sitting at the desks and playing with the children as if we were all back in 1893 was so much fun. You can read more about . The afternoon consisted of helping with preparations for one of the service's . My task was to write the answer sheet for the mystery cooking objects.

Wednesday was spent helping in an offsite collection store. There were countless objects in the boxes, which were stored on rows and rows of shelves. One of the stranger things I came across in the archives was a mummified rat, found under the floorboards of a house in Guildford.
I was given the chance to catalogue a collection of Dorothy Standfast's medals and information regarding her successful work in the Red Cross. This was a very peaceful task, quietly sorting out the information - a thoroughly enjoyable day!

Thursday began with the writing of social media posts for events such as #worldbookday. This was followed by a tour of historical sites in Guildford, including the Guildhall and Castle. I particularly enjoyed seeing the castle because of its Norman origins. It was built sometime after 1066 by William the Conqueror to stop rebellions across the country. It's incredible to think the castle has been standing for thousands of years.
In the afternoon, I started writing my blog post, which was an effective way for me to reflect on what I'd learned from my week and about all the potential career opportunities!
On Friday I acted as a guinea pig for Sarah and Di, the museum's Engagement Officer. The aim was to test a new idea for digital storytelling with collections, a learning module run by
Culture24.
Having been shown a few mystery objects, I had to study them up close, guess what they were and what they were used for. In the afternoon, I did some research on the items; a bee skep, curling tongs, waffle iron and wick trimmer. After that, I finished writing my blog post.

Thank you to all the Guildford Heritage staff who helped me during my work experience week - it was an amazing experience, which I will always remember! I think my dilemma about choosing between a fine art or history degree remains - it isn't an easy decision - but I know I still have time to consider, and life is about more than what degree I choose!
Blog post written by Ada Rogers.