Farmers' Market
The Farmers' Market runs on the first Tuesday of every month in High Street, Guildford from 10.30am to 3.30pm.
The dates for the market in 2021 are:
Tuesday 1st June
Tuesday 6th July
Tuesday 3rd August
Tuesday 7th September
Tuesday 5th October
Tuesday 2nd November
In December 2021, the market runs on Tuesday 7th December and Tuesday 21st December.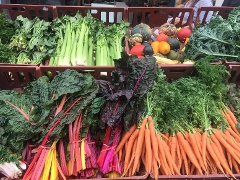 We have over 50 producers offering a variety of fresh local produce at each market.
We keep a balance between types of stalls to promote customer choice.
As a National Farmers' Retail and Markets Association (FARMA) accredited market, we have strict rules on what products are sold and who should sell.
The producer must produce the goods themselves, using locally sourced ingredients.
The producer must be based in our catchment area of within 50 mile radius of Guildford. Occasionally we will take a producer outside the catchment, but only if it's a product that can't be sourced within the radius.
Priority is given to primary producers, such as farmers, fishermen, growers, cheese-makers and brewers. Secondary producers, such as bakers, preserve makers, and a very limited number of craft, must commit to using a defined percentage of locally sourced ingredients in their products.
All the products sold must be reared, grown, caught, brewed, pickled, baked, smoked or processed by the stall holder. Generally, we do not permit the sale of bought in goods.
For more information on prices, availability and eligibility for a pitch, email: farmersmarket@guildford.gov.uk.
Not all producers listed below attend every market, please email farmersmarket@guildford.gov.uk for more details.
Producers
Billtong Boss
Cherry Orchard Design
Collaroy Farm Eggs, Newdigate, Dorking
Delizie Italiane Ltd
Empanadas La Criolla
Guildford Country Markets Ltd
Guildford Fairtrade
Imbhams Farm Granary
Nonsuch Shroons
Olives and Things
RC Court
Ringden Farm Ltd
S&S Patisserie
Selborne Pottery
Selsey Willows Seafood
Street Food Spain
Teds Garden
T & V Vegetable Gardens, Alton