Careline
Careline is a 24-hour emergency call system, helping people live independently in their own home, safe in the knowledge that help is at hand at the touch of a button.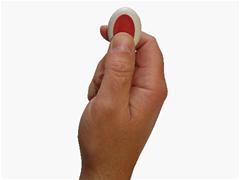 The equipment is easy to install and consists of a small base unit linked to your telephone socket and a pendant trigger, which can be worn discreetly around your neck or wrist.
You can simply press a button in an emergency and an alarm call will be sent to our alarm centre, which is staffed 24 hours a day, 365 days a year. Our trained and experienced operators can identify the source of the call and arrange for the most appropriate assistance, even if you are unable to speak.
Who can use the service?
Anyone living in Guildford can subscribe to the service.
Some Careline customers include:
older people

people with physical disabilities

people with learning disabilities

people at risk of falling

people worried about bogus callers

people returning home from hospital

people at risk of domestic violence
How the scheme works
Careline staff visit to install the alarm and provide a pendant trigger. Pressing the button on the pendant trigger will alert operators who will respond as soon as you raise the alarm. Even if you are unable to speak our operators will be able to assist you.
We ask you to provide us with the names and telephone numbers of relatives, friends or neighbours who would be willing to help you in an emergency. Alternatively, we can set up a keysafe to allow emergency services access to your property. If you require assistance from the emergency services, the operator will call these immediately.
How much does Careline cost?
There is a charge for the service, which includes connection, monitoring and maintenance. You will continue to be responsible for your telephone bill.
The standard package (alarm unit with pendant) is £4.45 a week.
Six week free offer
If you've recently been discharged from hospital, or have been a victim of distraction burglary, you can receive a free six week Careline and smoke alarm package.
This enables you to maintain your independence at a time when you may need some extra help. It's also an opportunity to try the Careline service and decide if it's something you want to keep for the future. Please contact us for further details.
Additional Careline and Telecare support
Careline can provide other triggers and sensors. Telecare is additional equipment linked to the alarm which can give extra help and support when needed. Additional Telecare equipment includes:
Falls detectors

Flood detector

Gas detector

Bed occupancy sensor

Bogus caller alert

Carbon monoxide detector
If you would like to discuss any of the options available, please call us on 01483 502334 or email telecaredirect@guildford.gov.uk.
Related pages
Translate