You are here:

Chapel and facilities information
Chapel and facilities information
Our newly redeveloped Crematorium has been thoughtfully redesigned to create a very peaceful place for people to remember their loved ones.
We have a range of services to choose from (for the latest fees, please see our
Fees and charges list [268.85KB] ).
Service type and cost

Service time

Description of service

Coffin in advance

8 to 8.30am

The funeral director will bring the deceased to the chapel prior to the funeral service.

Direct Cremation

8.30am

8.40am

Crematorium staff will be in attendance in the chapel to receive the deceased.
Suitable music will be played but no specific music request can be accepted.
No service in chapel and no mourners attending.

Full service

9am

9.45am

10.30am

11.15am

12pm noon

12.45pm

1.30pm

2.15pm

3pm

3.45pm

Full service consists of 30 minutes' chapel time and 15 minutes to allow mourners time to exit chapel.
Celebrant and mourners may be in attendance and music and Wesley requests
Guildford crematorium was rebuilt in 2018/19 based on a design featuring stunning courtyards and courtyard gardens.
Additional planting surrounds a new reflection pool, providing a peaceful and meditative environment filled with different colours and scents throughout the year.
The chapel
We recognise that every funeral service should be arranged to suit individual needs. Services can be religious or non-religious in nature and as formal or informal as you wish.
The chapel space features a stunning vaulted roof, which allows natural light to create a calm and uplifting environment. The building uses an array of natural materials, including Oak and York stone and can accommodate 132 people seated.
There is additional space for larger services in the chapel lobby and waiting room. Both of these areas have screens from which people can view the service.
The chapel has a flexible seating plan with chairs that can be arranged according to the size and type of service required. Underfloor heating makes this a warm and comfortable space.
A screen at the front of the chapel allows the display of visual tributes during the service. This can be organised through your funeral director. Anyone with a hearing aid may access the T loop system by setting it to the T position.
Car park
The main car park has space for 103 cars with overflow parking provided nearby.
See arrivals diagram below, showing access route to the chapel and car park.
Disabled parking spaces are provided near the chapel entrance. Electric car charging points are also available.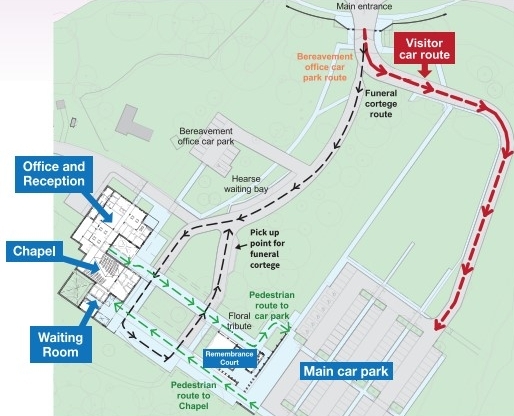 Toilet facilities
Toilets with disabled and baby change facilities are located by the main car park (Remembrance Court) and also by the chapel waiting room. The site is designed to be fully accessible to all.
Waiting room
Our waiting room has comfortable sofas and chairs and a screen to watch the service in the chapel if this is required. The room is next to the toilet facilities with a view of our courtyard garden and the approaching funeral cortège.
The waiting room has plenty of seating and hot drink facilities.
Crematorium Gardens of Remembrance
The crematorium gardens of remembrance, book of remembrance and flower room are open during the following times:
November, December, January 9am - 4.30pm
February 9am - 5.30pm
March and October 9am - 6pm
April and September 9am - 7.30pm
May, June, July, and August 9am - 8pm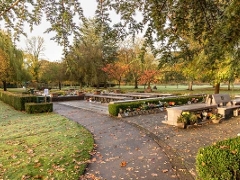 Crematorium documents
Crematorium documents for funeral directors and medical practitioners are in the Downloads section of this page.
If you are thinking of organising a funeral service without a funeral director, please contact the bereavement services office at Guildford crematorium for guidance.
Address
New Pond Road, Godalming GU7 3DB
(If using Sat Nav, you may need to enter New Pond Road, Compton, GU7 3DB or B3000, Godalming, GU7 3DB.)
Related pages